Sound Studio
"A

good speech

should be like a woman's skirt;

long

enough to cover the subject and

short

enough to create interest."
― Winston S. Churchill
It's about a sound recording 
OUR MEDIA Sound Studio offers full Post Audio services encompassing all genres of Audio. We have 02 fully equipped record/mix rooms offering up to 5.1 Mixes as well as ADR and Narration Record. We also offer 04 edit suites with a vast SFX Library. ISDN and Source Connect are also available. we are happy to offer full Post services taking each project from edit to delivery without having to leave the building. OUR MEDIA SOUND STUDIO handles all formats of audio media from Factual Television to Feature Film.
State of arts
We have integrated Apple platform at the digital Audio workstation, with support of State of art equipment and software including, Digital Audio Mixer, audio capture devices, Audio Interface, amplifiers, Variety of Microphones, Headphones, Studio Monitors, Cables Microphone Stands , Pop Filter etc.
Strategy
We've always made it our goal to reach above and beyond industry standards, and the Sound that comes out of our studio is no exception to that philosophy. Our sound is defined by modern equipment and expert technique. The music we create is ready for worldwide play, rivaling that of your favorite popular artists in virtually every technical detail.Defining the audience of the project.
Defining the message of the project.
Defining the where and when to publish or broadcast.
Designing and planning the project upon the client's budget.
Writing a unique script.
Determining the ideal audio length.
Serenity and Clarity.
Determining the tone of the voiceover so the listeners feel it. 
Usage of high and latest technologies and equipment.
On time delivery of project.
Our Sound Studio Specification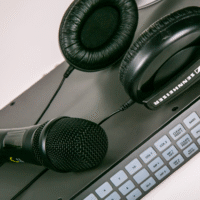 Radio advertisements and awareness campaigns
Voice over
Music composing
Radio programs